1. Falling Water USA, Frank Llyod Wright 
This beautiful one of a kind building open minds to see architecture in an entirely new light, this building is undeniably a masterpiece by F.L.Wright. It is studied to this day to be one of the buildings that define the essence of architecture
2. Wenchuan Earthquake Memorial Museum, China by Cai Yongjie
This beautifully crafted building portrayed the essence of an earthquake. This architect and his team broke every barrier to creating this masterpiece, It is equally fascinating for architects and non-architects equally.
3. Shandong Teahouse, Weihai by Trace Architecture Office
This was constructed near an abandoned mining site, the architect skillfully used large undulations on the site. The materials used were locally bought, making the building a part of its surroundings in more ways than one.
4. Bire Bitori, Mexico by Tall Arquitectos
This building is a cliff-hanger, literally. The architect wanted to design a unique restaurant that allows the users to experience the beauty of this site. They make a building that hangs off a cliff, allowing a gorgeous view while people dined. This building definitely is an experience of a lifetime.
5. Applesauna, Italy by NOA
Inspired by the hobbit house, this beautiful building is like out of a storybook. This Sauna looks like it is a small hillock that is hiding a beautiful relaxing area on the inside. The architects cleverly used the natural ability of gound and groundcover to act as an insulator to make this one of a kind sauna.
6. FPT University, Vietnam by Trong Nghia Architects
This under-construction project literally integrates nature with an urban building. The architects use every platform available to give more greenery, they use balconies and step roofing to allow more area for greenery.
7. The Sentosa house, Singapore by Nicolas burns Associates
This timeless house uses its surroundings to its utmost ability. The architects use spatial logic with natural materials to make this beautiful home. This building easily becomes a part of everything it is surrounded by.
8. The wooden treehouse, Costa Rica by Benjamin Gracia Saxe Architecture
The beautiful childhood experience of playing in a treehouse is like none other. This beautiful building captured that feeling in a modern, minimalist house. The architects captured the essence of a home and the nature surrounding this home, in this unique, heart-filling design.
9. Primeval Symbiosis, Denmark by Konrad Wójcik
This beautiful home, that looks too good to be true, was inspired by the coniferous trees surrounding the house. This beautiful home looks like it's surrounding while making it a perfect place to live in that climatic condition.
10. The ground treehouse, UK by 6a architects
This home was designed to be entirely barrier-free. The architects use the balcony to become a part of the artistically designed landscaping.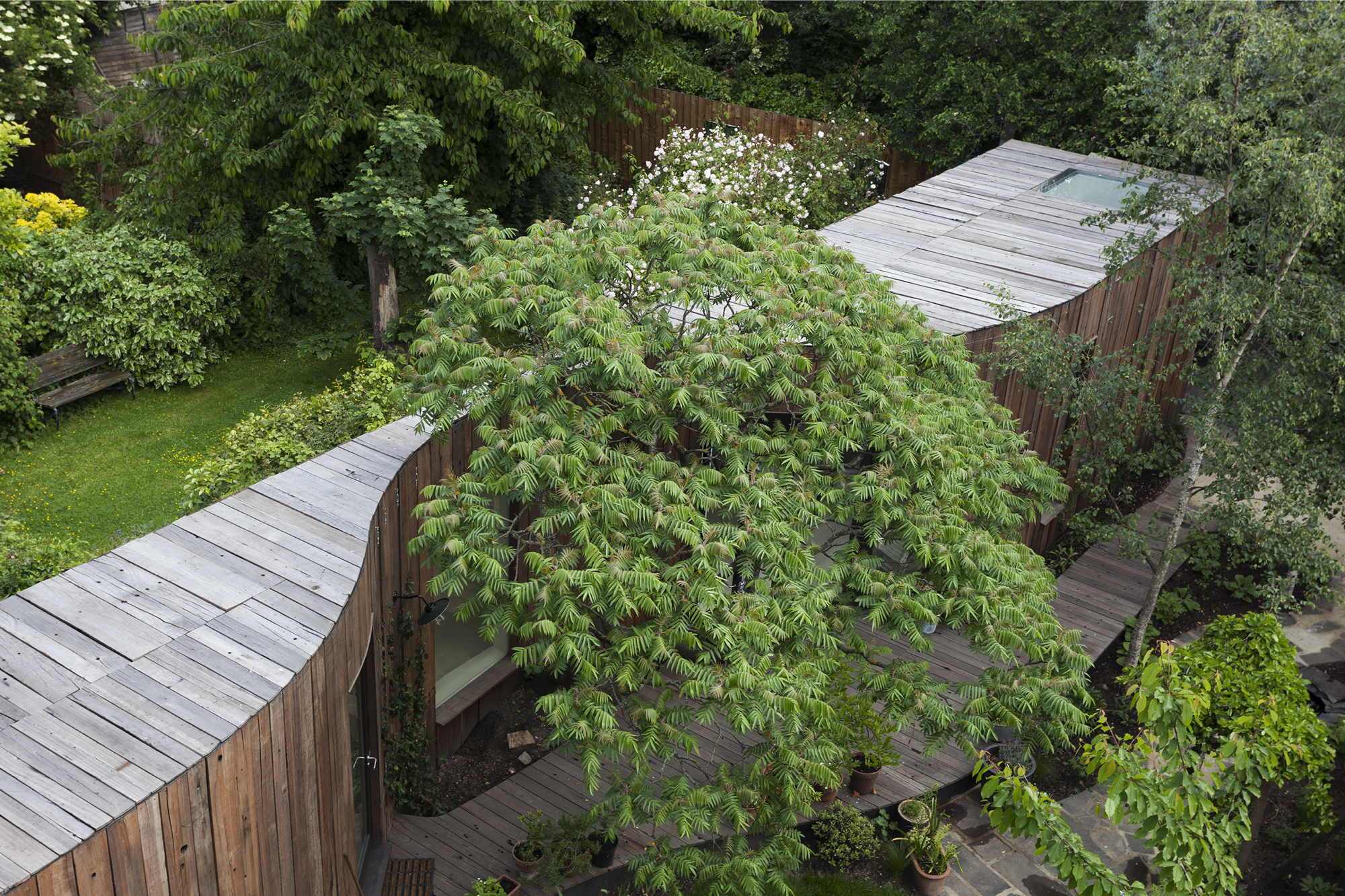 11. Yello treehouse restaurant New Zealand by Pacific Environment Architects with Peter Eising and Lucy Gauntlett leading the team
This beautifully designed treehouse is a well functioning restaurant. The name "yellow" was chosen, as all materials and consultants, came from the book yellow pages. This enchanted looking restaurant is raised above the floor, in the middle of the meandering woods.
12. The Pierre Residence, The US by Olson Kundig
This beautiful weekend retreat home, was signed to be a part of the huge bounders that covered the site. This minimalistic approach allowed the architects to keep much of the natural contouring and rocks.