1. Aranya Low Cost Housing, Indore
Completed in 1989, the aim of this Township was to create a sense of community and to promote peace between the built environment and the residents. This has received the coveted 1996 Aga Khan Prize for Architecture.
2. Atira Housing, Ahmedabad
Construction on this complex began in 1956, and was completed in 1960, one of Doshi 's older projects. At the Indian Institute of Management the ATIRA factory and its homes are located in a green front area. It is a small structure, which shows several parallels to the ventures of Le Corbusier.
3. ECIL, Hyderabad
Doshi built the ECIL township between 1969 and 1971, and was part of a planned expansion of the electronics industry in Hyderabad. The village is about 15 km from Hyderabad town centre. Doshi planned the system especially for the climate of Hyderabad, using maps to determine sun angles and wind direction so that it could be better used by openings and shorts.
4. Jnana-Pravah Centre for Cultural Studies, Varanasi
Inaugurated in 2001, Jnana-Pravaha's new building was christened Pratichi, by Professor Vishnu Kant Shastri, then governor of Uttar Pradesh. The building houses a multi-purpose lobby, lecture rooms and classrooms, an exhibition center, a library, museum and a whole administration block.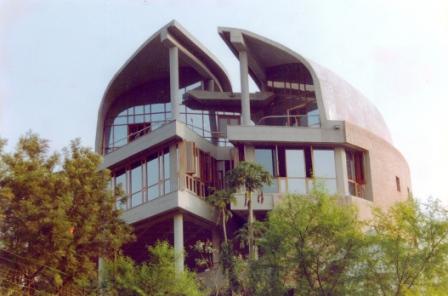 5. Sawai Gandharva, Pune
Established in this hometown of Pune, it took more than 10 years to complete this performance art centre, from 1990 to 2001
6. Tagore Hall, Ahmedabad
This hall is framed by a truly brutalist building, a series of rigid concrete folded plates. Doshi designed the house, situated on the banks of the Sabarmati River in 1966. There is a 'sitting room' within the hall with a capacity of 700.
7. LIC Housing, Ahmedabad
Designed for the Ahmedabad Life Insurance Company in 1973, this complex was called locally as Bima Nagar. It is composed of 324 units clustered on 54 plots in a duplex terraced unit design. The original strategy was based on effective site and service delivery with a staggered growth plan.
8. Sangath, BV Doshi's Office, Ahmedabad
Sangath 's classic roofscape is instantly recognisable. The room features a series of sheathed sunken vaults in China mosaic, a small terraced amphitheater with elaborate water details.